---
Best Fit Solution - Level TWO
Products are compared at the level of detail specified and results displayed via a Force.com application. Information can be shared with clients via a Go-To-Meeting connection to allow further drill-down of results. Note: The diagram below displays a list of best fit products and the product at the top of the diagram below scored a 79 percent fit.
SCREEN SHOTS - Best Fit Products - Level TWO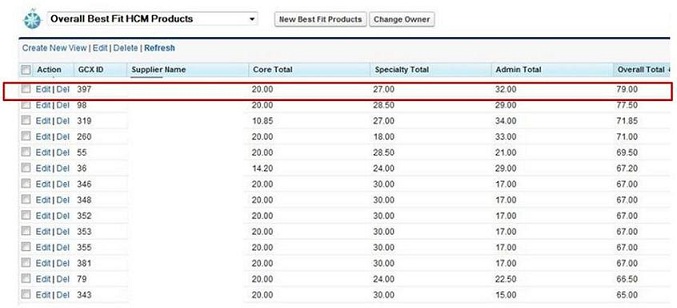 Some clients prefer to input requirements to Level TWO only and compare products in the marketplace.
The advantages of going to Level TWO only are:
It takes less time to define requirements
The client may have a product in mind and this exercise may confirm functional fit
There are more products in the database defined to Level TWO only that can be included in searches
The client may wish to include specialty products in a multi-product solution and integrate several products with their chosen system of record.

The disadvantages of going to Level TWO only are:
Product information has been generalized in some instances and further investigation for proof of claims is necessary.
The exact extent of the functional gap will not be known until after purchase and possibly not until the configuration phase.
Vendor customisation will probably be necessary unless one of the "open source" products is chosen
The real cost of the products being compared cannot be accurately estimated without a detailed functional gap analysis