---

Making the right business decisions is what company prosperity is all about. To make the right decisions every level of management require the right information. HR's contribution to the strategic decision making process is to provide a set of HR metrics that measure performance to ensure the achievement of planned business outcomes. The role of an HRMS solution is to supply the right data. H Cloud Solutions provide an HR Metrics Wiki to help manage the HR Metrics administration process.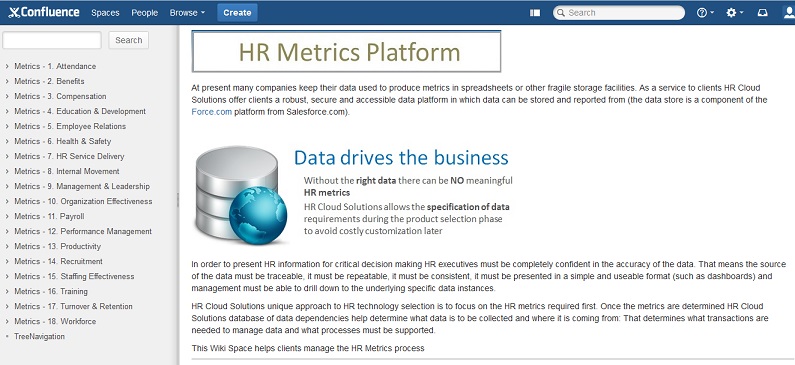 In order to present HR information for critical decision making HR executives must be completely confident in the accuracy of the data. That means the source of the data must be traceable, it must be repeatable, it must be consistent, it must be presented in a simple and useable format (such as dashboards) and management must be able to drill down to the underlying specific data instances.
HR Cloud Solutions unique approach to HR technology selection is to focus on the HR metrics required first. Once the metrics are determined HR Cloud Solutions database of data dependencies help determine what data is to be collected and where it is coming from: That determines what transactions are needed to manage data and what processes must be supported.
The list of HR metrics is constantly changing due to management needs and published industry standards. Any solution must be flexible and user customisable.
HR Cloud Solutions provide a list of over 200 commonly required metrics, supported by reports and dashboards to choose from. The HR Cloud Solutions HR Solution Finder has a screen for users to nominatte their HR metric requirements - sample below.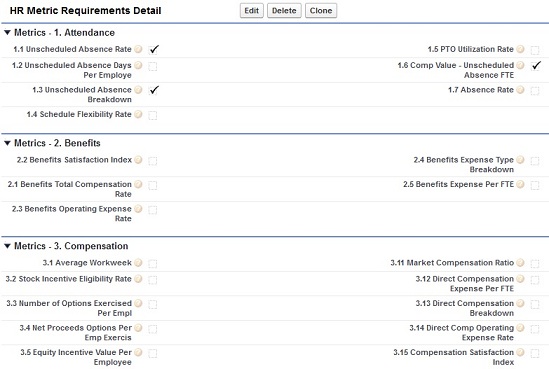 At present many companies keep their data used to produce metrics in spreadsheets or other fragile storage facilities. As a service to clients HR Cloud Solutions offer clients a robust, secure and accessible data platform in which data can be stored and reported from (the data store is a component of the Force.com platform from Salesforce.com).
---

HR Cloud Solutions offer a comprehensive data model containing over 100 objects and 2,500 data elements. The model describes field types and attribute details. Clients may build their own applications to industry standard to allow plug-in capability for components built to the same model.

HR Cloud Solutions provides a pre-built plug-in framework on the Force.com platform to accelerate custom development. The platform is built according to the data model. HR Cloud Solutions provide a component registry to locate objects and components that can plug-in to the integration points or copy and paste formulas for rules or picklists for content.

HR Cloud Solutions offer assistance to incorporate modern features (such as mobile, social, integrated reporting platform, and custom development extension capability) into clients' existing legacy systems using the Force.com platform.