---
Human Resource Component Software Application Standard - for Application Development
The Human Resource Component Software Application Standard (HR CSAS) is available as a PDF document to community members and contains all the information needed to design an HCM product. There are over 100 objects defined and over 2,500 data elements. The HR CSAS is available in PDF format for HR Cloud Solutions clients.
Human Resource Component Software Application Standard - Sample Page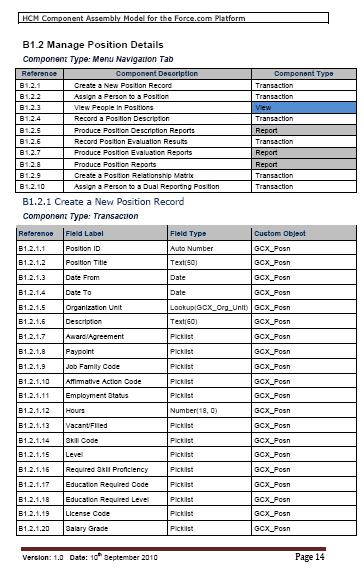 The Human Resource Component Software Application Standard (HR CSAS) can be implemented as a working Force.com application. The diagram below is a data model, or database schema, of the objects contained in the HR CSAS.
The purpose of providing a common data model for HCM developers is to enable plug-in applications to a consistent platform.
Common Data Model for HCM Applications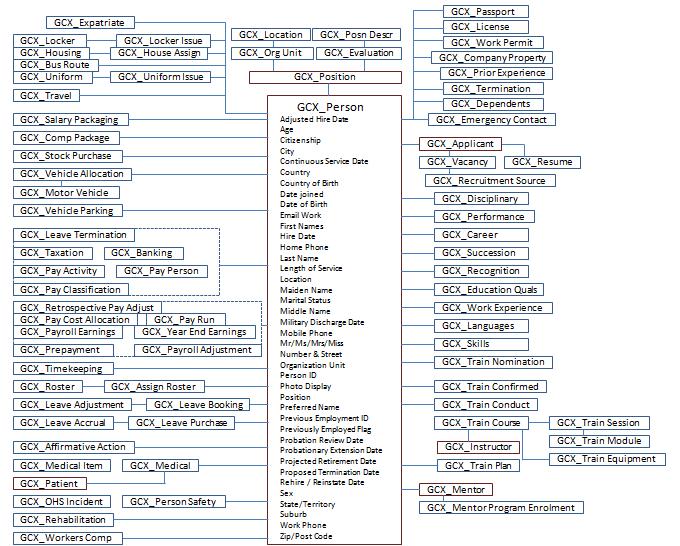 HR Component Software Application Standard (HR CSAS) Update
HR Cloud Solutions services, along with the HCM Mashup Builder, are based on the structure and content of HR CSAS version 1.4: It is now time to publish an updated version (HR CSAS Version 2.0) that includes additional features such as social media, HR metrics, on boarding, gamification, and so on. The underlying database schema will not alter, but will include new data elements associated with the new features.
The HR CSAS is an open standard for Force.com developers to build HCM component applications and list them on the Commercial Component Registry to give clients a greater choice of quality third party component products to integrate into their HCM solution.
The diagrams below illustrate the composition of the new HR CSAS version 2.0 and the HR Cloud Solutions Force.com implementation of the standard (HCM Mashup Builder) that can be downloaded as a complete package or in component groups to supplement and extend clients 'current HCM applications.
| | |
| --- | --- |
| HR CSAS (Version 2.0) Component Structure | HCM Mashup Builder Downloadable Component Packages |
| | |
The over-lapping sections of the circles in the diagram above represents object (or table) joins in the Force.com database.